Glass
2019 PG-13 SCIENCE FICTION 2h 9min
CAST— James McAvoy, Bruce Willis, Anya Taylor-Joy, Sarah Paulson, Samuel L. Jackson
DIRECTOR— M. Night Shyamalan
Rounding out director M. Night Shyamalan's Unbreakable trilogy is this initially interesting though ultimately forgettable threequel. David Dunn, the nearly impervious heroic nobody from Unbreakable (2000), is busy walking the streets of Philadelphia seeking to put an end to the reign of terror carried out by the mysterious serial killer the audience knows as the Beast, the monstrous alter ego of multiple personality case Kevin Wendell Crumb from Split (2016). Discovering Kevin's hideout and saving his next intended victims, Dunn and the Beast face off, only to be taken in by the authorities, who remand them to psychiatric care headed by a doctor who specializes in the treatment of those who believe they have super powers. She begins to treat, not only Dunn and Kevin, but also Elijah Price, the mastermind behind the madness that took place in the first film. Her treatment is focused on convincing these super powered guys that they are in fact normal, given only to flights of fancy they've picked up from comic books and pop culture. All seems to be going well. Then Price, aka Mr. Glass, begins to put his scheming brain to work. Will the world see a final showdown between super powered beings, proving beyond doubt their existence? Though the film tries to put together a thought-provoking spin on the now familiar super hero subgenre, this proves a thoroughly unsatisfactory experience. Complex issues are resolved in way too pat a fashion ("Martha", anyone?) to be believable, as are many of the characters' motives. Performances are pretty solid, though, Bruce Willis as Dunn and James McAvoy as the multitudinous Kevin, aka the Horde, being the standouts. Never proving as interesting as its predecessors, one hopes this will be a franchise that will be at rest from here on.
OUR RATING— **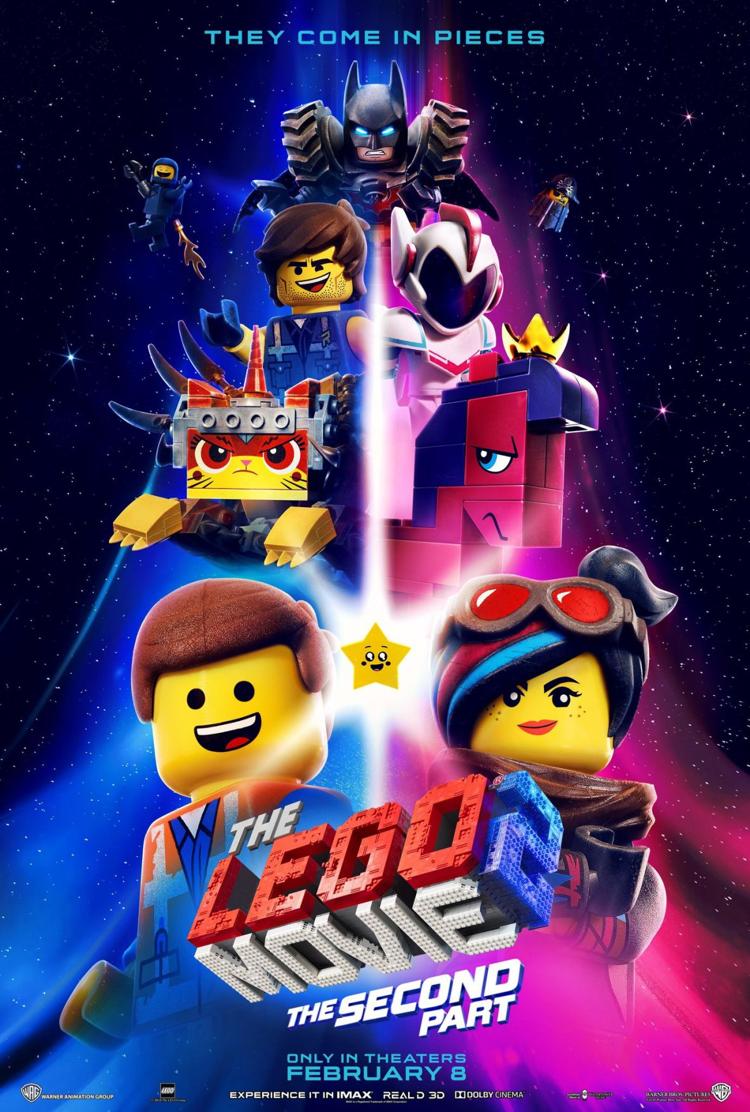 The Lego Movie 2: The Second Part
2019 PG ANIMATED 1h 47min
CAST— Chris Pratt, Elizabeth Banks, Will Arnett, Tiffany Haddish, Stephanie Beatriz
DIRECTOR— Mike Mitchell
BASED ON— Lego brand construction toys
Inane attempt at recreating the nonsensical joy of the first Lego Movie, not achieving any of the magic of said first film. It seems the integration of Legos and Duplo brand toys has not gone smoothly. The Duplos seem to be there to destroy everything the Legos have worked so hard to build. Five years pass, and now the Legos live in a veritable wasteland a la Mad Max's dystopian world. Soon the Duplos begin to whisk away the Lego characters, claiming they're all invited to a wedding of some kind. Wildstyle, aka Lucy, feels things aren't quite as they seem, so she rebels at any of the Duplos' extensions of peace. Meanwhile, Emmett is rescued by a mysterious though somehow familiar figure named Rex who is utterly bent on the destruction of all things Duplo. Influencing Emmett in his hatred of Duplo, they both head towards the Duplos' outer space home, where an odd wedding between the Duplo queen and, get this, Batman himself is about to take place. But is Lucy right in her assessment that the Duplos are up to nefarious schemes, or are they simply lonely for the camaraderie the Legos enjoy? Making even less sense than the first film (and yes, that's possible) this seems more of a cash grab as opposed to a serious attempt to create a worthy, entertaining followup. Needless to say, everything is not awesome this time around, despite the fact that kids will probably eat it up brick by brick.
OUR RATING— * ½
RETRO REVIEWS
Ocean's 11
1960 NR COMEDY-DRAMA 2h 7min
CAST— Frank Sinatra, Dean Martin, Sammy Davis, Jr. Peter Lawford, Joey Bishop
DIRECTOR— Lewis Milestone
Bottoms up! Join the Rat Pack; you know, Dino, Sammy, Peter and Joey, rounded out by Ol' Blue Eyes himself. Speaking of Frank Sinatra, he's decided to relive the good old days by reuniting his fellow 82nd Airborne paratroopers, eleven in all. But they're not gonna reenact their favorite WWII battles; they have in the works a massive heist where each member of the troop can shine in his respective field (recon, electrical, demolitions, etc.). They plan to hit five major casinos at once, on a busily confused Las Vegas New Year's, hopefully taking home millions. Hopefully. But their timing must be spot on; one miscalculation could spell disaster. But there may be a slight hiccup when Peter Lawford's soon-to-be stepfather (no stranger to the ways of the gangster) slithers into the equation. What will the Pack do? The first half of the film suffers from tedious exposition, despite the impeccable (though quite sexist) writing. Fortunately when the heist is underway there's little to complain about. Add to that a nearly perfect ending and there you have it, shaken, stirred, what have you. A must for film buffs. Final note: massive amounts of alcohol and tobacco were consumed before, during and after filming so, once again, bottoms up!
OUR RATING— ***
The Princess Bride
1987 PG FANTASY 1h 38min
CAST— Cary Elwes, Mandy Patinkin, Chris Sarandon, Christopher Guest, Wallace Shawn
DIRECTOR— Rob Reiner BASED ON— The Princess Bride (novel), by William Goldman
A thoroughly entertaining fairy tale that even the guys can appreciate. A young boy sick in bed has a visit from his grandfather, who presents to his grandson a book whose story has enthralled under the weather children in their family for generations. It's a tale of
daring, adventure, and most importantly, love. Long ago a beautiful young woman named Buttercup fell in love with her farmhand Westley, a poor man who decided that if he was to marry the fair maiden he should first make his fortune. Sometime later, reports reached Buttercup that her beloved was killed by a notorious pirate. For five years she grieved. Even when the prince chose her to be his bride she still had love for no one other than Westley. Before she was to marry the prince, an odd trio of kidnappers seized her. The leader of the gang planned to kill her and blame the crimes on a neighboring kingdom, thereby inciting war between the two nations. But he didn't count on a mysterious stranger following them, subduing them one by one and rescuing the soon-to-be princess. The stranger was then revealed to be her beloved Westley, who'd been masquerading as the very pirate who had supposedly killed him. As the tale progresses the grandfather's story begins to capture the imagination of his grandson, who's really into it now. As it turns out, the prince had orchestrated Buttercup's kidnapping and planned her murder, until Westley came along. Shortly, the two kidnappers whom Westley had earlier subdued were proven honorable. They then teamed up with Westley to storm the prince's castle, rescue the girl and save the day. Though told as a fantasy there's actually very little offered that one might call fantastical when compared to films of the same era such as Legend (1985) and Labyrinth (1986). What is here though, is a purely character-driven story; never mind what's going on and why it's going on, just enjoy the ride. The characters are both broad and relatable, ones that continue to entertain both longtime fans and newcomers alike. Deemed "culturally, historically, or aesthetically significant" by the United States Library of Congress National Film Registry.
OUR RATING— ***