Jenny Pickens, a self-taught artist from Asheville, is the first Artist-in Residence for 22 London, studio of Randy Shull and exhibition space in Asheville.
Pickens has been commissioned to design and paint a 4 ft. x 24 ft mural for the courtyard of the Wortham Center for the Performing Arts and will create the three-panel mural at 22 London.
Pickens researched thousands of performances at the Wortham Center and distilled it down to images that synthesize over 20 years of performances at the theater in downtown Asheville. Managing Director Rae Geoffery says "We are honored and humbled to showcase Jenny Pickens' stunning work in this space and to the more than 65,000 people who visit the Wortham every year." After upgrading the entrance courtyard, now the Explore Asheville Courtyard thanks to funding from the TDA, the Wortham Center wanted to bring the experience of the performing arts outside the four walls to engage the community in this beautiful new outdoor space with a small open air stage.
At a very young age Pickens had a love for drawing and making things with her hands. Her grandmother would tell her, "You wake up with a crayon in your hands and you go to bed with a crayon in your hands." Pickens's work extends across several mediums, including pencil, pen and ink, pastels, oils, fiber arts, pottery, and jewelry, but her medium of choice is acrylics. She has received several awards, and her work has been featured in newspapers, galleries, and festivals.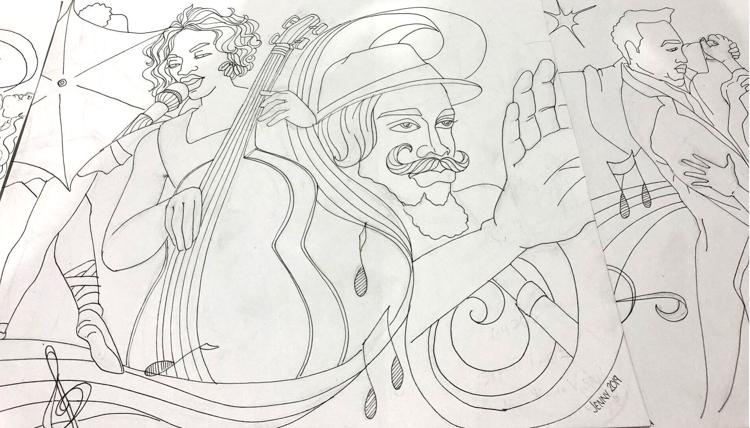 Pickens has designed and painted several murals throughout the city, including her newest installation on the street at Pack Square Park for Black Lives Matter as well as at LEAF Global Arts and the Stevens Lee Recreation Center. She is currently preparing to paint a mural for the Funkatorium on Asheville's South Slope.
Pickens says her paintings are related to her cultural background, and that is something she never wants to lose.