ASHEVILLE — Support WNC's creative talent not only on the stage but behind the script with a production of "In the Middle of Nowhere," opening April 30 for a three-week run at the Magnetic Theatre.
The story centers on a retired art professor who escapes to the Black Mountains of WNC after a harrowing experience in her "previous" life. Despite her fiercely independent nature, she eventually forms a relationship with a young man who has recently been released from prison. They challenge each other in unexpected ways... but the question remains, will either of them accept forgiveness?
The play written by local playwright Bret Murphy and directed by The Magnetic Theater's Artistic Director, Katie Jones, in collaboration with Magnetic's New Play Development Program.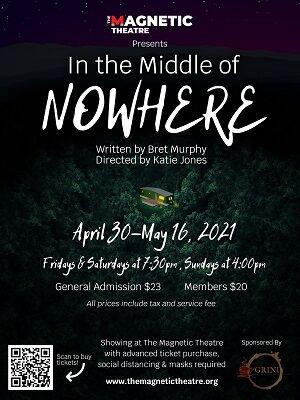 Show times are at 7:30 p.m. Friday and Saturday nights through April 30-May 15, and at 4 p.m. Sunday afternoons May 2-16.
Tickets $23 for general admission, with discounts for members of The Magnetic Theatre. Click here for tickets.