CHEROKEE — Elton John's early rock career will come to life before your eyes with The Rocket Man tribute show on stage at Harrah's Cherokee Casino Saturday, July 17.
Performer Rus Anderson recreates the magic and live persona of a young Elton, storming around the stage with a fun-loving sense of flamboyance — part diva, part soccer player, killer vocalist, fierce piano player, all rock-and-roller.
Anderson's painstaking attention to detail includes wearing gorgeous, colorful and spectacular costumes (many actually worn by Elton) including his iconic boots, glasses and jumpsuits from 1973, as well as a sparkly Swarovski tuxedo from 1984.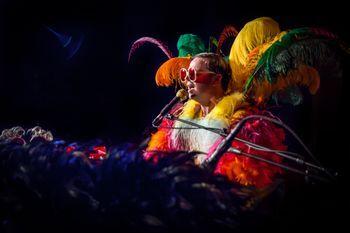 Picked by Elton John himself, Anderson's Rocket Man show is considered the best recreation of a young Elton John. Audiences are in for a night of nostalgia, singing, laughing and participation.
Tickets are $19-$27 and sold through Ticketmaster. Click here for tickets.