Tweetsie Railroad's historic steam engines are roaring once again as the park is open for 2019. Guests will experience a Wild West adventure complete with family-friendly entertainment, rides and special events all season long.
The 2019 season at North Carolina's first theme park will include annual events such as the July 4th Fireworks Extravaganza, Day Out With Thomas™, the award-winning Ghost Train, Tweetsie Christmas and Railroad Heritage Weekend.
Daytime operations for Tweetsie Railroad will continue through Sunday, October 27. For the third year, the theme park will be open every Friday and Saturday night, Nov. 22 through Dec. 28 for the spectacular Tweetsie Christmas holiday event.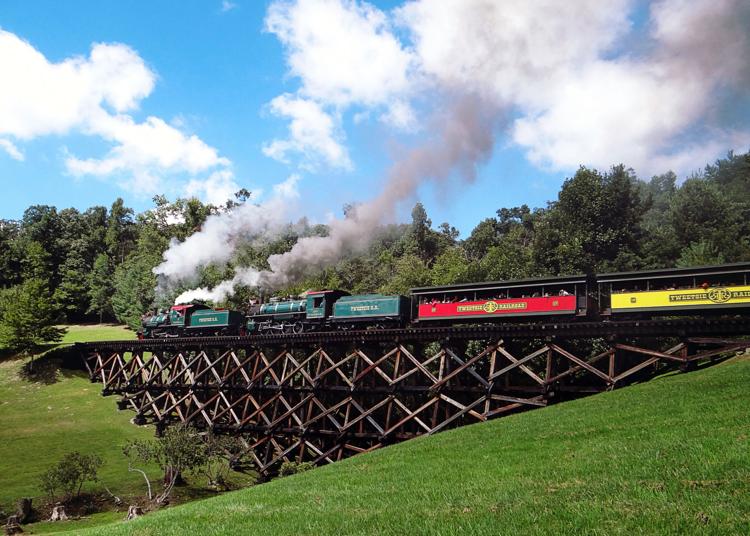 Tweetsie Railroad offers plenty of fun for the entire family. Whether it's hopping aboard a train pulled by a historic steam locomotive for an exciting three-mile Wild West adventure, panning for gold, meeting cowboys and Can-Can girls, or strolling through an authentic Western town, the theme park has something for everyone. Families can explore amusement rides, gem mining and the Deer Park Zoo.
Tweetsie Railroad also offers plenty of live entertainment including the Country Clogging Jamboree, Diamond Lil's Can-Can Review, and Tweetsie Railroad's own Hopper and Porter children's show.
Visit www.Tweetsie.com before planning your visit.
Daytime admission is $50 for adults, $32 for children (ages 3 to 12) and free for children 2 and under. 
Tweetsie Railroad is located on U.S. Highway 321 between Boone and Blowing Rock, North Carolina. For more information about Tweetsie Railroad, visit Tweetsie.com or call 877.TWEETSIE (877.898.3874).