The family farm has long been the backbone of agriculture in America, and thanks to an 'old crop that's suddenly new again,' family farming has been revitalized — especially in North Carolina.
The crop behind this growth (If you haven't guessed from the above headline) is hemp.
Hemp was poised to become a bumper crop during the 1930s and pioneer industrialist, Henry Ford, was a huge supporter. A little thing called The Marihuana Tax Act in 1937, put the brakes on hemp farming.
Too bad, because hemp is among the fastest-growing and most versatile crops known to man. Hemp can be used for food, feed, fuel, building materials, bio-plastics and so much more. But the hemp use that is fueling its current resurgence is a popular derivative called CBD.
You've seen hose three little letters popping up on signboards and storefronts all over Colorado, Nebraska, Kentucky, South Carolina — and North Carolina.
CBD is an extract from female hemp plants that has become a popular dietary supplement and pain-relieving ingredient in lotions.
CBD oil has an omega profile almost identical to fish oil, but (here's the key) CBD oil contains a minimal amount of THC — the active ingredient in cannabis, or marijuana.
Hemp grown for CBD use is carefully controlled to keep the THC to low levels, so it doesn't give a high.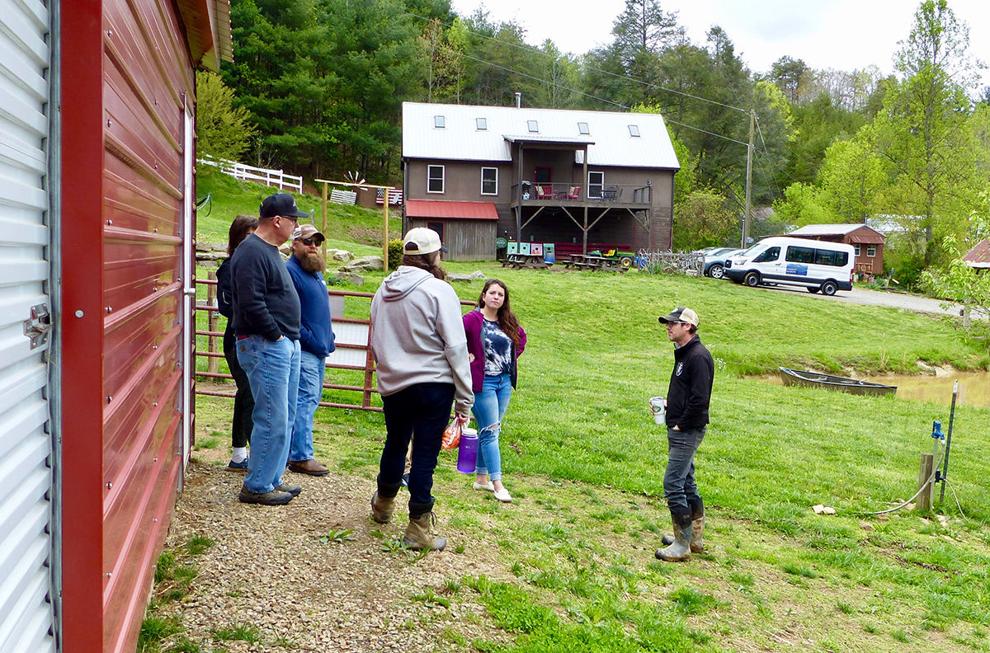 Female hemp plants produce significantly higher quantities of cannabinoids than male flowers, so it's fitting that the leading local proponent of hemp farming for CBD use is female. Her name is Frances (Franny) Tacy, and she (along with her husband, Jeff, and children, Zach and Blue) launched Franny's Farm in 2012 in Leicester.
Franny's Farm is dedicated to family farming, sustainability, ethical business practices and, "offering an organic farm for visitors to celebrate, learn, explore, relax and have a memorable time."
Franny's Farm is at the core an organic, sustainable farm that is home to a variety of animals, including chickens, turkeys, sheep, goats, a donkey and two amazing Scottish Highland Cattle. At Franny's farm you'll also find vegetable, fruit, flower, bee and pollinator gardens and a u-pick blueberry hill. The farm is also available for goat yoga, farm weddings, getaways in eco cabins and festivals like Hemp-X & Asheville BARNAROO.
Franny's Farm has become a showcase for small, sustainable hemp farming in North Carolina and CBD production, and a fortunately for us, Tacy has partnered with Leap Frog Tours to bring guests to the farm.
Leap Frog Tours will pick you up in a number of locations, transport you to Franny's Farm in comfort, take you on family-friendly farm tour visiting the animals, gardens and hemp fields. You'll enjoy a tasty box-lunch with one of the farmers. From there you'll visit Franny's Farmacy in Asheville, where you will learn more about CBD, sample CBD products and have an opportunity to purchase at a discount.
The next leg of the Franny's Farm tour is a visit to either Bhramari Brewing or New Belgium Brewing for a hemp-inspired beer. Finally, Leap Frog Tours will drop you back to your starting point.
To book this fun and educational farm tour, visit www.leapfrogtours.com/services/click-and-book-tours-classes-workshops and select 'nature tours.'