Asheville has received accolades for just about everything from food and festivals to the health and eco-conscious community. It is arguably best known for being one of the top outdoor cities in the Southeast. Thousands of trail miles crisscross the surrounding mountains, and a vast network of waterways run through and around the town, making Asheville a dream destination for any outdoor enthusiast.
There are countless opportunities to experience the grandeur of the Blue Ridge Mountains on foot, including the famous Appalachian and Mountains to Sea trails. The iconic Blue Ridge Parkway offers a variety of hikes for overnight backpackers and sightseers alike, including 6,684-foot Mount Mitchell, the tallest peak on the East Coast.
Despite the typically colder temperatures in the winter months, winter hikes offer unique benefits including better views unimpeded by leaf cover, less trail traffic, no bugs, and temperatures that help cool off the most ambitious of hikers and trail runners. Winter hikes are a great time to explore trails that are typically overgrown or overcrowded during peak hiking season – late April through mid to late October.
For the Ambitious
For those in relatively good physical shape, the hike to Looking Glass Rock climbs just over 1700+ feet, ending after 3 miles on the stone face of the prominent monolith (for the unfamiliar – Looking Glass Rock is the most prominent rock face visible from the Blue Ridge Parkway). Just a quick 45-minute drive from downtown Asheville, the switchback trail offers a moderately difficult climb with infinite returns in views at the top. The round-trip hike totals just under 6 miles and can be completed in about 3 hours (breaks included). The trail is heavily trafficked during tourist season, so Winter offers a respite from the crowds. It is an easy to follow path with no spur trails to confuse hikers unfamiliar with the area, offering a straight shot trek to the top of the rock, and back.
Directions from Downtown Asheville: Take I-240 West to exit 40 off I-26 East (exit for the Asheville Airport). Take a right onto Highway 280 West and go 16 miles toward Brevard, turn right onto US Highway 276 North (Forest Heritage Scenic Byway) to enter the Pisgah National Forest. Go 5.3 miles and turn left at the sign for Pisgah Center for Wildlife Education and the State Fish Hatchery. Go .4 of a mile and look for the small, paved parking area on the right for Looking Glass Rock Trail Head.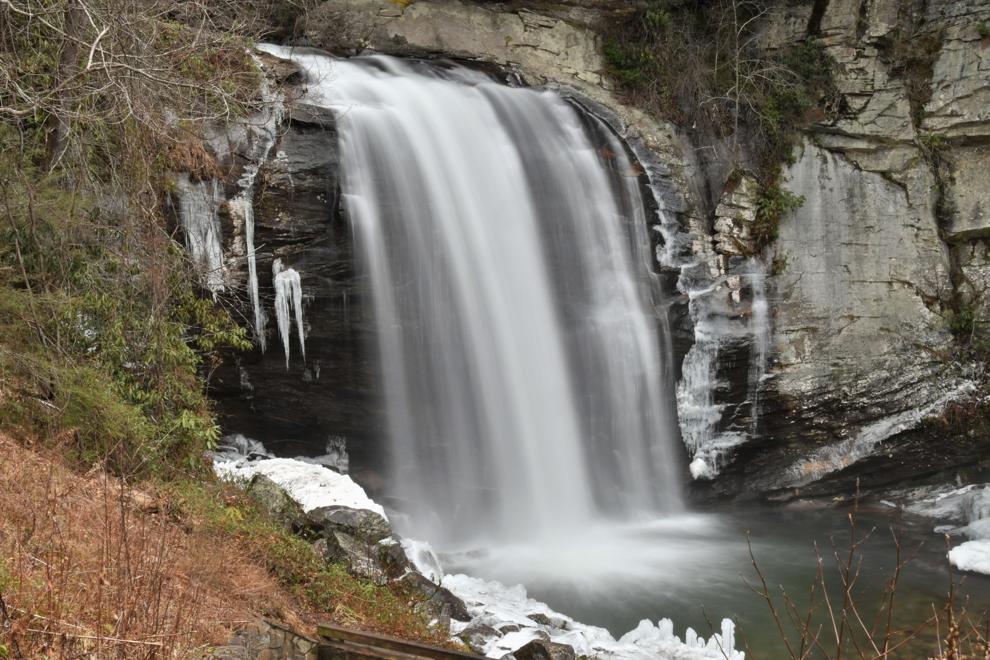 For the Family
Many locals are familiar with Looking Glass Falls in Pisgah National Forest, but few are familiar with its neighbor Moore Cove Falls. What Moore Cove Falls offers that Looking Glass does not is the opportunity for visitors to walk behind the 50 ft. tall waterfall's base (assuaging fears of falling). The waterfall is accessible from a small parking area by a stone bridge on U.S. 276, a mile past Looking Glass Falls on the way towards the Blue Ridge Parkway.
Families can make a pit stop at Looking Glass Falls on their way to Moore Cove Falls, taking advantage of reduced tourist traffic in the Winter (and on particularly cold days, icicles around the falls), before heading on to the 1.5-mile, flat trail that goes out and back to Moore Cove Falls. The trailhead to the waterfall is marked with an information board by the parking area (again, look for the stone bridge to identify the parking area), at which point hikers can cross the wooden pedestrian bridge and walk the short, easy ¾ of a mile to the falls.
The trail was re-graded in 2011, eliminating surface obstacles that may present challenges for small children, or those who struggle with balance or hills. It is a straightforward and well-marked path, making it easy to navigate for all ages and abilities. The added benefit of Moore Cove Falls is that it's seated in the heart of Pisgah National Forest, making additional hikes and/or stop offs an easy option for those looking to extend their day, or take advantage of one of the many picnic areas for a snack or meal, especially those travelling in groups or with small children.
Directions from Downtown Asheville: Take I-240 West to exit 40 off I-26 East (exit for the Asheville Airport). Take a right onto Highway 280 West and go 16 miles toward Brevard, turn right onto US Highway 276 North (Forest Heritage Scenic Byway) to enter the Pisgah National Forest. Proceed on US 276 for 6.6 miles past the Pisgah National Forest stone entrance marker. The parking area is on the right just before the highway crosses the stone bridge over Looking Glass Creek.
For the Tourist
Finding a hike in another town can often be intimidating, and at times, may prevent tourists from really digging into the opportunities a new town can offer (or biting off more than they can chew). While some hikes may have good views, their distance and/or gradient may be prohibitive to the uninitiated; or the trailheads may simply be difficult to locate without some local knowledge. One of the best hikes for a tourist to Asheville is Max Patch. Locals may have a tongue-in-cheek response to those looking to take on Max Patch, but this hike hits all the "check points" for a tourist looking for the quintessential Appalachian Mountain experience within an hour of downtown (about an hour and fifteen minutes). There are no spur trails for those new to a trail to wander off on (Graveyards Fields is notorious for disorienting spur trails, yet continues to be a highly recommended tourist spot), the distance is right at a mile making it easy for most ability levels, there are ever-present 360 degree views at the top, directions to the trail are easy, and there is plenty of parking. Even better, the trail loops by the Appalachian Trail for those who want a more challenging experience to add on to their hiking excursion.
Directions from Downtown Asheville: Take I-40 West about 40 miles to exit 7 (Harmon's Den). Take a right on Cold Springs Road, which becomes gravel. This usually well-graded road climbs steadily, eventually becoming SR-1182 (Max Patch Road). Turn left and drive 1.5 miles to the Max Patch parking area on the right.
Regardless of trail experience or interest, it is highly recommended that any hiker always brings water and light snacks. While mountain streams look clean, they are not a viable water source unless properly filtered and/or treated. Layers are essential for winter hiking, as temperatures at higher elevations drop quickly and mountain top balds (like Max Patch) are typically windy. Always research a hike before embarking on an adventure – a quick Google search will present a large amount of information on the above hikes and can help orient visitors along the way. Screen shot directions to trailheads before leaving as cellphone service is not reliable in these areas.
Recommended websites to review trail information include: www.hikewnc.info or www.internetbrothers.org.