WAYNESVILLE — Kids can hone their bike skills and learn about bike safety during the Haywood County Bicycle Rodeo from 9 a.m. to noon Saturday, Aug. 21, at the Folkmoot Center on Virginia Avenue in Waynesville.
All participants will be entered into a drawing for free bicycles. Bicycles will be raffled at about 11:30 a.m. People must be present to win.
Other activities include helmet and bike inspections, a beginner bike skills course (with loaner bikes available for borrowing), an advanced bike skills course, and group rides.
Children must wear a helmet and have a parent or guardian present. Organizers will have a limited number of bike helmets available at the event.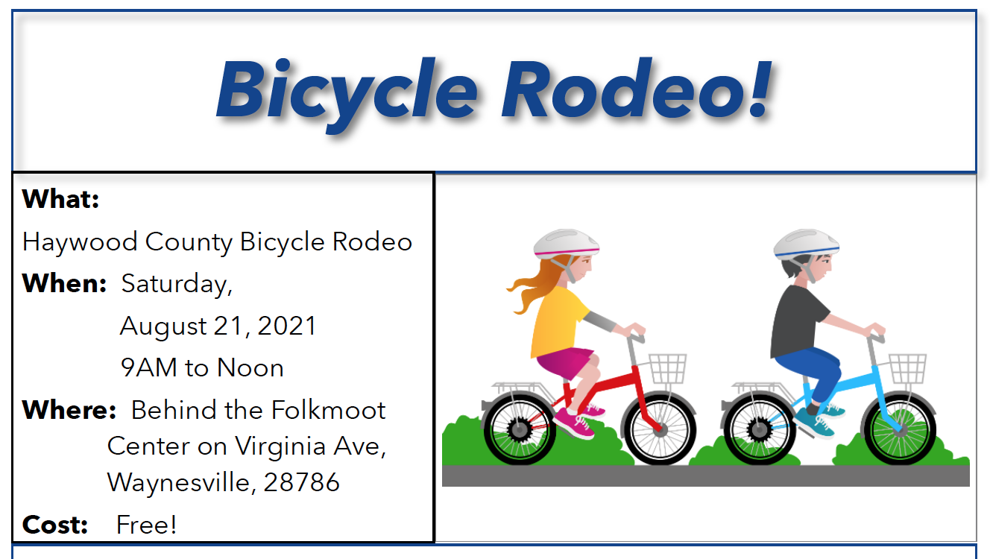 Event sponsors include town of Waynesville, J.M. Teague Engineering, BicycleHaywoodNC, Blue Ridge Cycle Club, Rolls Rite Bicycles, Folkmoot Cultural Center, Waynesville Police Department, Waynesville Fire Department, Haywood Christian Ministries, Safe Routes to School, Haywood Health and Human Services, Haywood County Recreation and Parks, Land of Sky Regional Council.